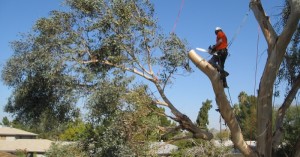 There are a number of reasons why a tree may need to be removed. Diseased, dying or dead trees are a safety hazard. Or you may be planning to landscape the area or have new construction done.
Whatever the reason for needing trees to be removed, it's always best to use the services of an expert. This is doubly important when the removal process could be dangerous, when the tree is in a location with limited access or when structures or power lines are close by.
There are a number of techniques which can be used to remove a tree. The method of removal depends a number of factors, such as the size of the tree, its location and its surroundings. We may use ropes and pulleys to safely remove branches over a house. Climbing and hand-cutting can be used, as well as earth-moving equipment when necessary. If the area is unobstructed, we can fell a tree in one action, which saves money and time.